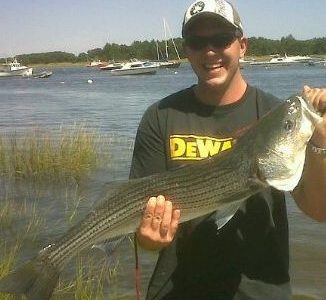 On Monday, April 17th, the 2nd Annual Michael Y. Tardif Deep Sea Fishing Trip was held. This is a charitable event to honor the memory of Michael 'Mikey' Tardif, who passed away in January 2016 to overdose.
Mike was well known and loved in the central Massachusetts and Southern New Hampshire recovery communities. He was also a proud union carpenter out of the Boston area. He loved his children, and was a wonderful dad, son, fiance, and brother. He shared his passion for fishing with the organizers of this event, his father Yvan, brother in law Rich, and brothers Jason, Gary and Mike. The event began as an annual trip amongst friends and family, and has developed into the memorial fundraiser it is today following Mike's untimely passing.
The participants had a wonderful time, as always, caught a ton of fish and warmly recalled memories of their friend.
The event, which is held every year on Patriots Day, raised $380.00, which was donated to Jeremiah's Inn. Next year the organizers of the trip hope to make it even bigger.
Mike was gone far too soon, but his memory is carried on by his children, friends, family, recovery community, and Jeremiah's Inn.

President Richard Nixon established National Volunteer Week with an executive order in 1974, as a way to recognize and celebrate the efforts of volunteers. Every sitting U.S. president since Nixon has issued a proclamation during National Volunteer Week (as have many U.S. mayors and governors).
As we approach Volunteer Week 2017 (April 23rd- 29th) Jeremiah's Inn will highlight the many ways our volunteers contribute to help us fight addiction and hunger in our community.
As always, if you would like to give back, it is as easy as picking up the phone and calling, or emailing, and ask how you can get involved.