Four chefs, two courses- only one chance to get in on the action! 
On September 24th from 5:30-8:30pm come watch some of Worcester's hottest chefs battle it out to be the winner of the 2nd Annual Chopped!Worcester. The event will be held in the Odeum Room in the Rubin Campus Center at Worcester Polytechnic Institute. Using ingredients you'd find in a food pantry, these talented chefs will go head to head, creating an appetizer and an entrée in the space of only 40 minutes! The creations will then be evaluated by a panel of four judges.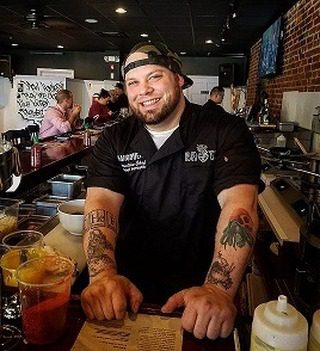 Heading up our panel of judges is Executive Chef Michael Arrastia from the Hangover Pub who competed as a chef last year, and is looking forward to being at the judge's table. He was born in Southbridge MA. He is a father of 2, and husband to his beautiful wife Ashley. He came to recognition when he recently opened the award winning Bacon Gastropub: The Hangover Pub in Worcester, MA this past year. Hangover has recently been awarded Best New Restaurant in Central Massachusetts and Best Brunch in the state by Livingly.com. "I have attempted, and I think succeeded, in creating a menu that is inspired by my past, while keeping a constant eye on the future to see where the culinary world may go." As the former executive chef of the fine dining institution Allora Ristorante in Marlborough, MA, he worked his way up with little to no formal training and he credits his success to "perseverance and hard work." Today he brings his own unique sense of creativity into every dish born at The Hangover Pub and is excited to be bringing that same creative spirit into future projects. But first, he must help us choose this year's CHOPPED!Worcester winner!!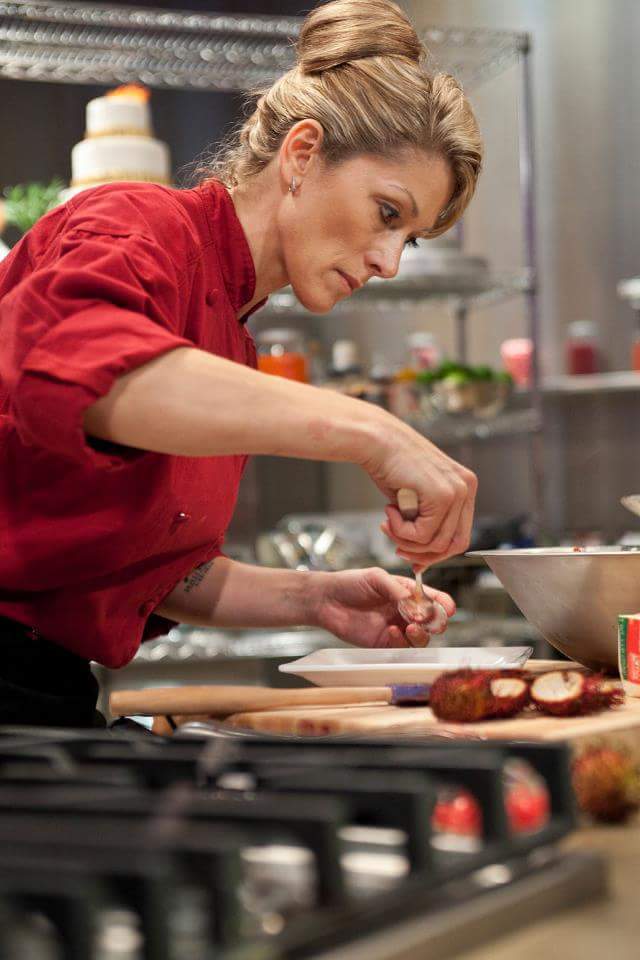 We are happy to have Chef Alina Eisenhauer formerly of Sweet, and named "Worcester's most Creative Chef" by Pulse magazine back at the table this year. She has earned dozens of accolades for her mouth-watering creations, including recognitions from Tripping.com, Yankee Magazine, Worcester Magazine, and Phantom Gourmet.  Alina has competed on several Food Network shows including: Chopped, Cupcake Wars, Beat Bobby Flay, Re-Wrapped and was the winner of Sweet Genius.  Alina was one of 75 chefs chosen from around the world to be featured in the book, Eat Ink and has also been featured in many other publications such as: Where Women Cook.  Alina has been invited to cook at the James Beard Foundation twice, presenting dinners there in both 2010 and 2014. Most recently, Alina has been pursuing opportunities as a consulting chef that will allow her to use her knowledge and experience, while also giving her more time to spend with her friends and family. We are so happy to have her back this year!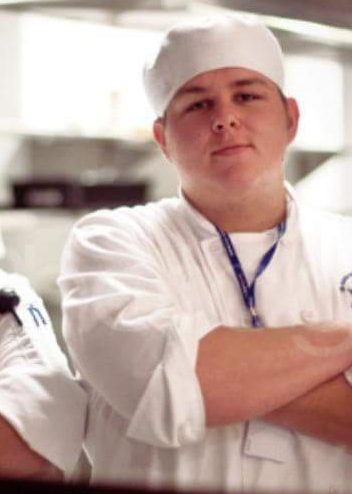 Our third judge is a good friend of the Inn Chef Derek Gibbs. Raised on the North Shore he graduated technical high school with a culinary certificate. He attended Le Cordon BleuCollege of Culinary Arts in Cambridge where competition cooking started for him. He graduated at the top of his class and even did a semester abroad at their Paris campus!He spent the majority of his career working in and around the North Shore. For over 7 years Derek worked for the Serenitee Restaurant Group in all manner of positions, from line cook to management. "I love the culinary industry. I love creating something from nothing and making people happy! My favorite part of the industry- besides the food? It would have to be the reaction I get from people when they taste my food." Derek's culinary journey has led him to Central MA , and his most recent position asa chef for Campus Cooks at WPI. We are thrilled to have Derek join us this year! 

How would YOU like to be a judge for this year's CHOPPED!Worcester? We are auctioning off a seat at the judges table so one lucky bidder can watch all the action up close and personal! This unique opportunity to sample the chefs' creations and vote to decide who takes home the coveted "Golden Cleaver"will be awarded to the highest bidder!! Visit: www.biddingOwl.com/JeremiahsInn and place your bid before the auction closes on 9/23 at 12am.
$50 gets you a ticket to see the show, hors d'oeuvres – some of which will be provided by local chefs — and the opportunity to bid on some spectacular auction items. There will also be a cash bar featuring special nonalcoholic drinks. All proceeds from the event support the Nutrition Center at Jeremiah's Inn, which provides food to more than 9,000 South Worcester residents each year.
Last year's event sold out well ahead of time. Don't miss out on your chance to see these talented chefs duke it out! Visit www.eventbrite.com/JeremiahsInn to purchase tickets. We'd love it if you'd spread the word to your family, friends, and coworkers, too!
Event sponsors are: BayState Savings Bank, Fallon Health, and Savers Bank at the King of the Grill level. Teamsters Union Local #170 and TD Bank at the Top Chef level.  Smith, Sullivan & Brown P.C. and William F. Lynch Co.,Inc. at the Gourmet level. Boulevard Diner, Cherie's Soul Creations, Masterman's Safety and Industrial Supply, O'Conner, Maloney & Co. P.C., and St. Mark's Church at the Foodie level of sponsorship. 
Event supporters include: Acoustic Java, Adrienne Beaupre & Assoc. LLC, Barber's Crossing, Birch Alley, Birch Tree Bread Co., Blanchard's 101 Diner, Boston Red Sox, BoundlessAdventures, Bowlero Shrewsbury, Headshop Hair Factory, Cupcakes by C. dough, Fatima's Café, Brownies by Jane Busby, Livia's Dish, Museum of Russian Icons, Music Worcester, Nu Café, Old Sturbridge Village,  O'Connors Restuarant & Bar, Polar Beverages, Smokestack BBQ, Southwick's Zoo, Sylvia Murphy, Tower Hill Botanical Garden, Wachusett Mountain Ski Area, Worcester Art Museum, Worcester Bravehearts, Worcester Railers , Worcester Restaurant Group, YMCA Worcester and Zoinks  …with more to come!