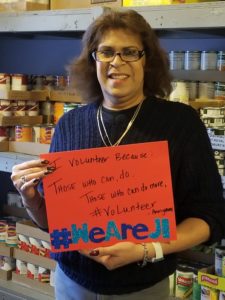 Jeremiah's food pantry provides emergency food assistance to individuals and families in need.
Each household may come once a month according to United States Department of Agriculture guidelines for emergency food assistance.
Emergency Food Pantry Hours
Monday 12pm- 3:30
Tuesday, Thursday, Friday 9am – 2pm
Wednesday – CLOSED
In 2018, the Jeremiah's Inn food pantry provided food to 12,274 people. Approximately 1/3 of those receiving food are under the age of 18. We provide food to those living zip codes 01602, 01603, 01610. If you do not live in one of these zip codes, please visit this website to find a pantry near you: http://www.foodpantries.org/ci/ma-worcester
To receive food please be sure to bring the following 3 items each and every visit:
Identification (ie. Drivers license, MA Health Card, EBT Card, School ID, MA State ID)
Proof of residency in our service area (i.e. current utility bill, current rent receipt, current piece of mail, etc.)
Jeremiah's Inn Card (please note – new clients will receive this card upon their first visit)
Jeremiah's Inn uses the TEFAP income guidelines to determine income eligibility. Clients who are in the low-moderate income level or who receive Medicaid (MA Health), SNAP (formerly food stamps), EAEDC, WIC, Free or Reduced School Meals, or Summer Feeding Program automatically qualify. Please refer to the USDA.gov for specific and up to date income levels.
We ask that pantry clients bring their own bags. We are always in need of bags and accept donations of recycled plastic and reusable grocery bags.
SEEKING VOLUNTEERS!!
To work shifts in the food pantry; stocking and organizing shelves, distributing food, performing client intakes, and smiling!! Generally, it is helpful to have basic computer skills and the ability to lift 25 lbs, but reasonable accommodations can always be made if you are interested in helping out! We only have weekday shifts in the Food Pantry so if you are available please contact Alyssa (508) 755-6403 x10 or fill out the Volunteer Application & Waiver and we will call you to set up a meet and greet:)!
Nutrition Center & Food Pantry Photo Gallery